This post contains affiliate links, which means I will make a commission at no extra cost to you should you click through and make a purchase.
La Llorona costumes are some of the scariest ghost costumes out there. Maybe because we all heard her story when we were little and our parents (or grandparents) were trying to scare us into doing something.
Time to go to bed? You better, or La Llorona will get you! Won't finish your supper? La Llorona takes children who won't do as they're told!
These days, La Llorona costumes are a big favorite at Halloween and Day of the Dead. You might even say, a sentimental favorite. Why? Well, you know we all love to get scared out of our wits and what better way to do that than to dress up as a specter that terrified us from childhood.
Her story is still told to this day in many, many versions. She still lives in the cultures of Central America, Mexico and yep, the American latinx community. In fact, La Llorona is even cited in the Texas State Historical Association website. There's more interesting versions of her story at Legends Of America.
La Llorona Cosplay Costume
Looking to create a cosplay version of this scary lady's costume? Here's one that fits the bill. She's great, right? See below for costume accessories to put the finishing touches on your cosplay costume. The Curse of La Llorona Llorona Halloween Cosplay Costume

Check Out These La Llorona Costumes
These costumes are pretty nice. Be sure to check what accessories the costumes come with or aren't included. I'll show you some great accessories to turn up the scary on your legendary scary woman.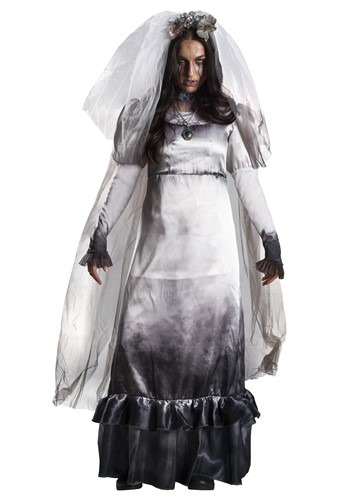 La Llorona Deluxe Adult Costume

La Llorona Halloween Costume with Accessories
Women's The Curse of La Llorona Adult Deluxe Costume
La Llorona Horrific Full Costume for Woman
Women's Llorona Costume with Accessories
La Llorona Story In English
I ran across this news piece and thought it would give you a nice rounded but brief description of La Llorona's story. It went along with the movie, which was great by the way.
La Llorona Halloween Costume Alternatives
Can't find what you want in a ghostly version of the costume? Why not try your hand at making your own? Here are some basic dresses you can use to create your perfect La Llorona. Check out the costume accessories below to finish out your costume and TA-DAH! You're the scariest ghost at the party!
Women Ghost Costume Gothic Victorian White Fancy Dress
Phantom Woman Halloween Ghost Adult Costume
Women's Ghost Costume Bride White Hooded Cape Costume
Forum Novelties Women's Deluxe Victorian Ghost Bride Costume
Women's Ghostly Spirit
Charades Women's Nightshade Bride
Amazing La Llorona Makeup Tutorial
Now what's a good costume without a great makeup job? Masks are hot and sweaty, but makeup let's you scare it up or down as you wish. There are some makeup suggestions below the video – just scroll down. And don't miss the second makeup tutorial further down the page. It's awesome too!
Mehron Makeup Paradise Makeup AQ Face & Body Paint (1.4 oz) (White)
Manic Panic Virgin White Pressed Powder Compact Gothic Vampire
Mehron Makeup Paradise AQ Face & Body Paint 8 Color Palette (Basic)
20 Pieces Makeup Brush Set Professional
Double-headed Liquid Eyeliner Pen
Tarte Tarteist Lash Paint Mascara
Mehron Makeup Tooth FX with Brush (.25 ounce) (Black)
Mehron Water Based Face & Body Paint Black and White Face Paint
Costume Accessories For La Llorona
Now this is where we can have some big fun when creating your own version of La Llorona. There were some awesome veils and gloves in black, but I'm a traditionalist. Her gown and veil are white. How fun are these ideas!
Women's The Curse of La Llorona Adult Costume Wig
White Double Ribbon Edge Wedding Veil with Comb
Spanish Style Lace Traditional Mantilla Veil
Rose Floral Crown Garland Flower Headband
White Satin Opera Gloves – 1 Pair
1920s Opera Classic Lace Gloves
Women's 253-Rebecca Victorian Boots – Witch Costume Shoes, White
Women's Bridal Shoes Closed Toe Chunky Heel Lace Satin Pumps
Another Awesome La Llorona Makeup Tutorial
Snazaroo Face Paint Clown White
These makeup ideas are from the second makeup video. These are different companies but are well rated on Amazon.
You'll find the tooth color and mouth colorant in the makeup set below the first video.
So. What do you think? Isn't this more fun than a mask? You'll be the talk of the party in your La Llorona costume.
&
Dermablend Loose Setting Powder, Face Powder Makeup for Light, Medium and Tan Skin Tones
Official Eyeliner Gel Eyebrow Powder Waterproof Brown and Black with Brush Mirror Kit
NYX PROFESSIONAL MAKEUP Soft Matte Metallic Liquid Lipstick – Violet
NYX PROFESSIONAL MAKEUP Eyebrow Cake Powder, Black/Gray
Deals On La Llorona Costumes On eBay
(Visited 1,293 times, 1 visits today)