Scottish Costumes For Women
If you're as big a fan of the Starz Outlander TV show series as I am, you're hunting for some great Outlander Claire Randall Fraser Scottish costumes for women.
I haven't got a clue why Starz and/or Diana Gabaldon haven't come out with a wonderful line of Outlander costumes to support the series, but I live in hope.
Whether it's for cosplay or for Halloween party wear, the hunt is on for 18th century Scottish costumes for women, right? What else would be as much fun as dressing like our favorite romantic heroine?
I've been cruising around the internet for awhile now trying to find appropriate period Scottish costumes women will love.
Here's what I've found so far that would make great Claire Fraser costumes from Outlander. If you need Outlander Jamie Fraser Scottish Kilt Costumes For men, be sure to check the post I made just for him. You're going to love all the Scottish costume ideas!
Let me know what you think ~ I've still got my eyes peeled!
Outlander Claire Randall Fraser Scottish Highlands Costumes – Custom Made
Reenactment, cosplay and theater applications call for the most authentic 18th century Scottish Highlands costumes for women. Quality is a must, so I went directly to the best artisans I could find ~ on Etsy.
The price points are more than your run of the mill costume company items, but the quality bears out the higher prices. If you're planning a reenactment or cosplay event, you'll definitely want to take a look at these lovely costumes from Etsy.
Claire's costume, Outlander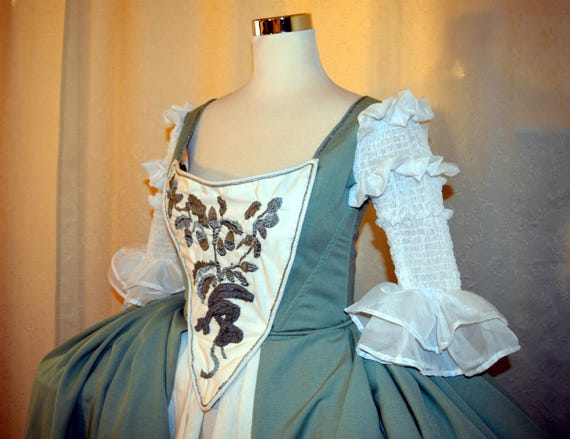 Outlander Claire's wedding dress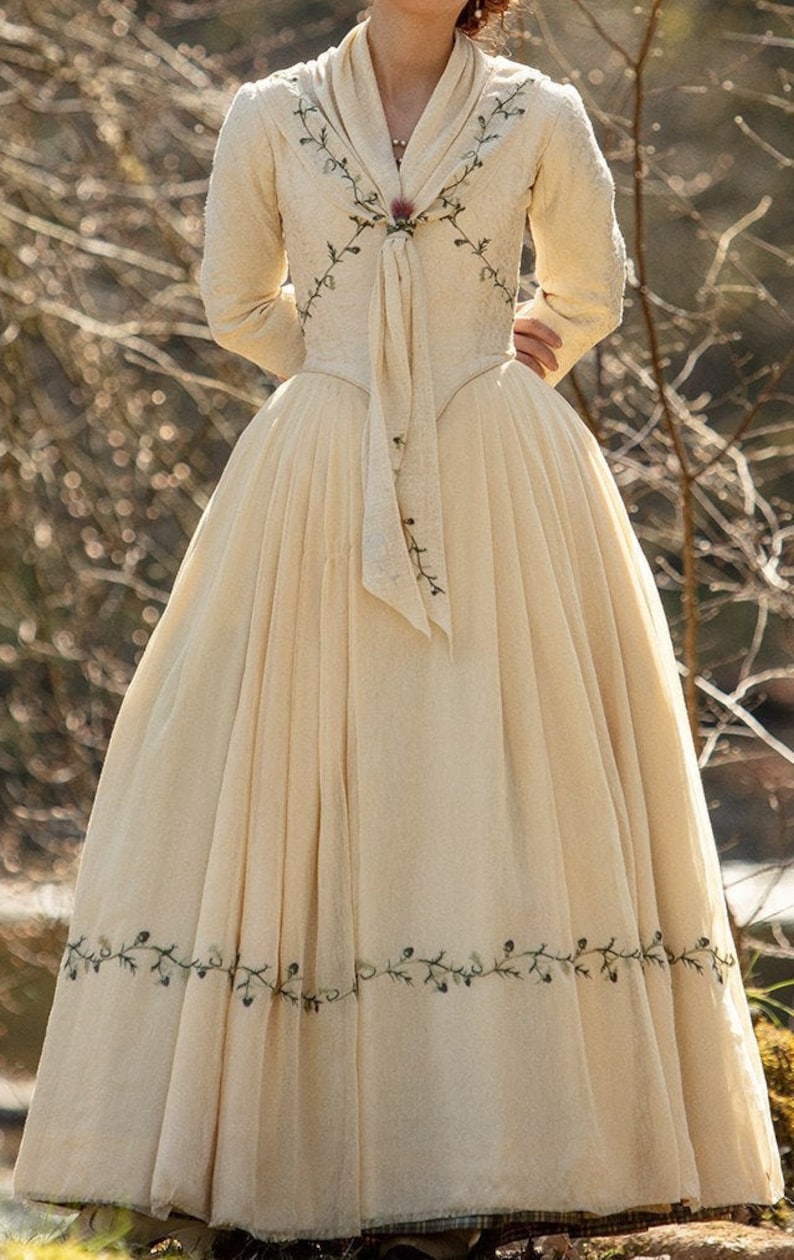 Bree Sea. 5 Outlander Wedding Dress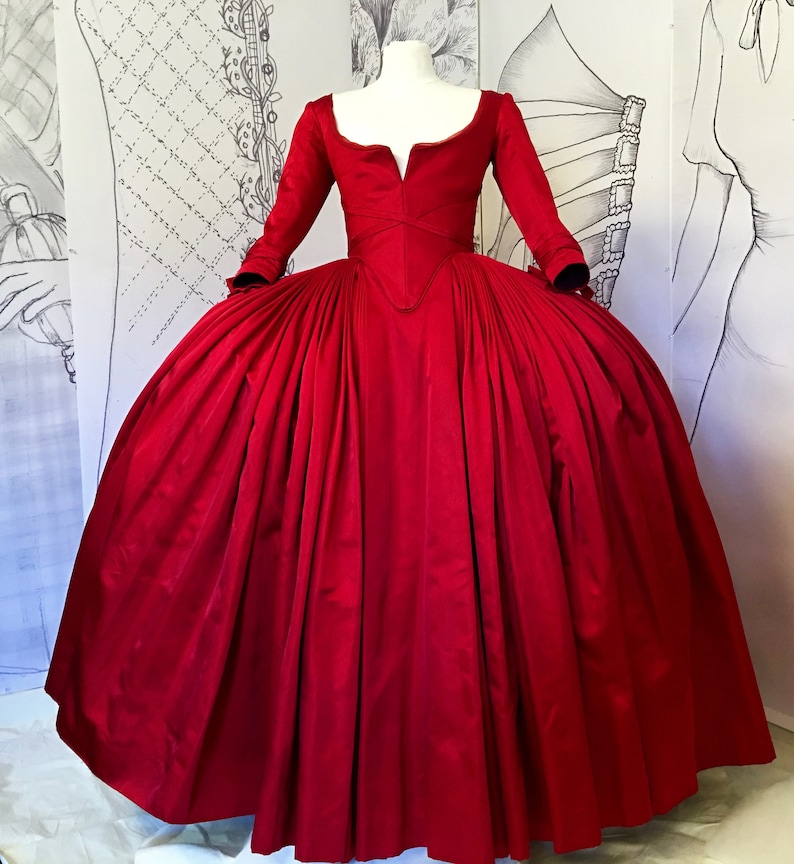 Outlander Claire red dress Replica season 2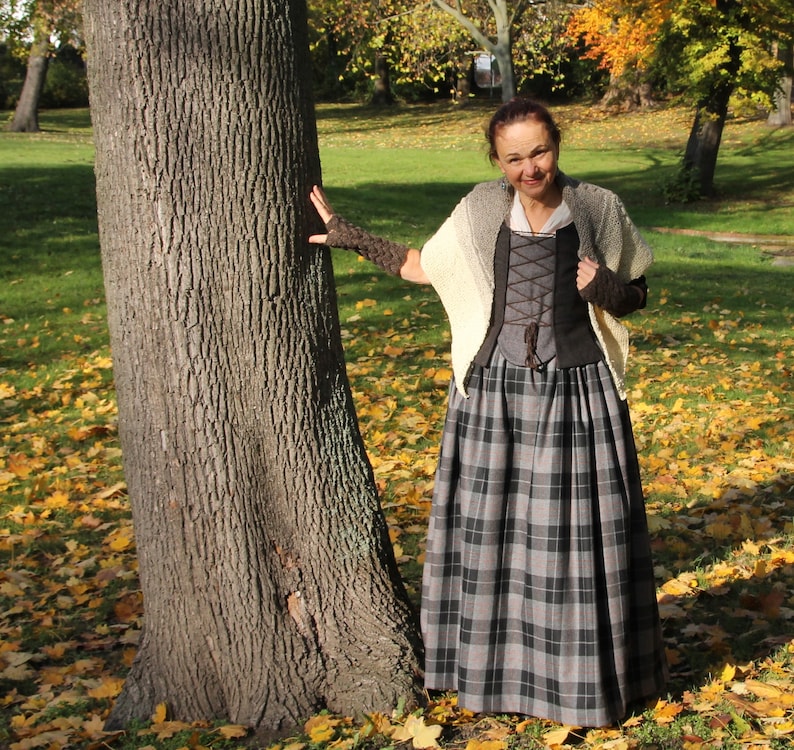 Dress in the style of Outlander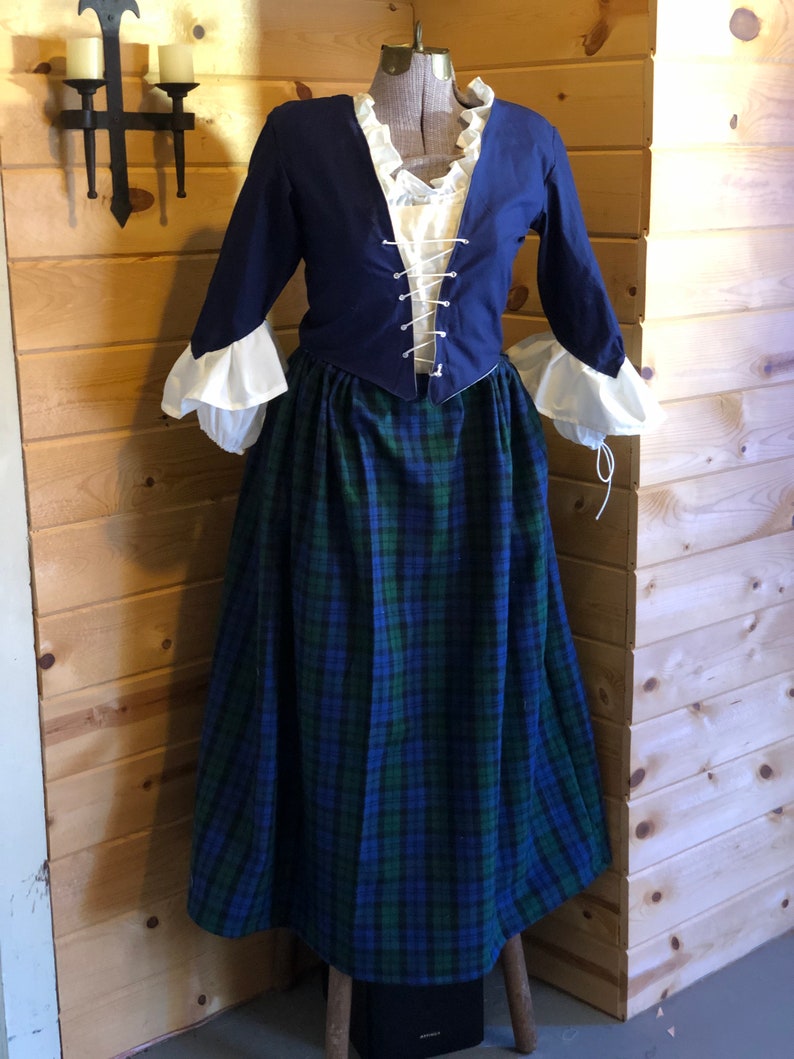 Complete Outlander outfit

Tartan dress, Outlander series

Didn't you just love Jamie and Claire's wedding back in Season 1? It was such a good opportunity to see the Scottish Highlands formal wear of the period. Claire was so lovely in her wedding dress and Jamie…well, what can I say? He's just scrumptious!
A Scottish Highlands themed wedding would be incredibly beautiful, don't you think? How much fun would that be! In fact, Etsy has some stunning Scottish fancy dress costumes that would make perfect wedding dresses. How about this one for example? Isn't it beautiful?
It's worth taking the time to look around Etsy for some gorgeous Scottish fancy dress costumes that would be ideal wedding gowns. You'd make a beautiful Highland bride!
Outlander Season 4 | Claire in the Garden Poster

More Scottish Costumes For Women
Renaissance Maiden Costume

I searched for two particular periods in costumes for women at several costume merchants. Talk about having fun shopping! I found several beautiful Scottish costumes for women that I think you'll like.
There are also colonial costumes for women and even a few Renaissance costumes for women here and there that have great potential as Claire Fraser costumes.
In choosing a costume for 18th Century Scottish Highland costumes for women, I looked at the bodice and especially the neckline. The Renaissance costumes tend to have those long flowing sleeves, too. I would consider replacing the sleeves if you really like the dress for your costume.
Some of the dresses are called "peasant lady" dresses, and they seem closest to what people around Claire would wear for daily wear.
With the peasant lady dresses, I would keep the off-the-shoulder sleeve ON the shoulder, but that's me. I think it would be more authentic with the peasant blouse on the shoulder. What do you think? See something you like?
Renaissance Bella Costume

Renaissance lady costume

Deluxe Renaissance Peasant Costume

Colonial Peasant Girl Costume

Scottish Costumes For Women On Amazon
Forum Novelties Women's Medieval Lace-Up Costume Gown
I searched Amazon and found a few more great possibilities for a Claire Fraser costume. These are excellent costumes to reflect Scottish Highlands daily wear. You can even spiff them up a little for period festival, or more dressy wear.
Remember that the 18th century bodice was tight-waisted and was either a laced jacket over a peasant blouse or it was actually a part of the dress. The bodice was low-cut, but the shoulders were actually worn on the shoulders. I mainly used that as a guide in looking for 18th Century Scottish Highlands costumes for women at Amazon.
Tweak these costumes just a little to transform them into what we want them to be – something Claire Fraser would have worn.
The results are here and I think you'll like them. Be sure to read the descriptions closely as some of them might require that you also buy a chemise or blouse to wear under the costume.
Women's Scottish Highland Dress Claire Fraser Cosplay Costume
Women's Scottish Highland Dress Claire Fraser Red Dress Ball Gown from Outlander
Armor Venue Women's Highland Dress – Scottish Gown Costume

Deluxe Scottish Brigadoon Costume – Small – Dress Size

RG Costumes Women's Renaissance Wench

Forum Novelties Women's Medieval Chemise Costume Accessory

Renaissance Medieval Irish Costume Over Dress & Boho Chemise Set

Reminisce Renaissance Scott Tartan Irish Dress & Chemise Set

Cute Scottish Party Costumes For Women
Going to a Scot themed party and just want something cute to wear? No worries. Here are some real cuties. I dinna ken if Claire would wear these, but they are so cute, who could resist?
Ladies Brave Scottish Warrior Costume
Women's Saucy Scotty Girl Costume
Sexy Scottie Hottie Plus Size Costume
Women's Sassy Lassie Costume
Scottish Costumes For Women On eBay
Now over on eBay, there's a pleasant mixture of 18th Century Scottish Highlands costumes for women that would be great Claire Fraser costumes. These run to the very good as Claire Fraser costume candidates. Hope you enjoy the selection at eBay ~ it's so much fun to shop there!
WP eBay Product Feeds
by
Winwar Media
(Visited 20,809 times, 1 visits today)