This post contains affiliate links, which means I will make a commission at no extra cost to you should you click through and make a purchase.
Selene Underworld costumes for women are the hottest women's costumes for cosplay or Halloween.
Selene, our favorite vampire Death Dealer from the Underworld movie series, is the most beautiful of all the vampires in any movies, in my opinion.
In the Underworld movies, Selene is a vampire played by Kate Beckinsale. She wears the most wonderful costume ~ it's so sexy! If you'd like to be sexy Selene from the Underworld movies, I have just the perfect Selene Underworld costumes for women.
Kate Beckinsale did such a good job with this role, didn't she? Of course she always does well at everything she does.
Death Dealers are essentially law enforcement officers in the Underworld universe, where vampires and werewolves have been at war for hundreds of years.
To this end, Selene wears a bodysuit with a corset, heavy boots and a long, black leather duster. She looks amazing! You will too when you wear one of these gorgeous Selene Underworld costumes for women.
Underworld Selene Death Dealer Costumes For Cosplay
Underworld: Blood Wars Selene Cosplay Costume(Including Boots)

Cosplayers have some really fine choices for Selene's super sexy costume. I've looked all over the place to bring you the best selection.
EZCosplay's costumes are incredible. High quality, good selection and lots of ways to adjust your costume with measurements. Not only that but they have the accessories that come with the costumes.
Many of the handmade costumes at Etsy can be custom made for you by special order. Some of the vendors do that. But aren't these amazing?
Selene's costume, underworld, cosplay

I've bought lots of items from the wonderful artisans on Etsy and let me tell you, they are wonderfully talented. Take a look at the details on these costumes. I know…amazing right?
The best ones are the custom orders. Such detail!
Be sure to check these out before you get your costume somewhere else. Quality is definitely worth the extra money as far as these costumes are concerned.
You'll stop traffic at every party!
&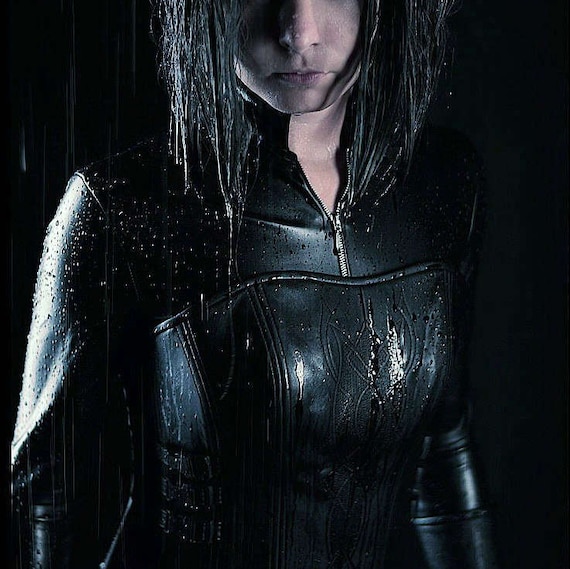 Selene Underworld vampire sexy cosplay costume handmade cosplay Corset Bodysuit CUSTOM ORDER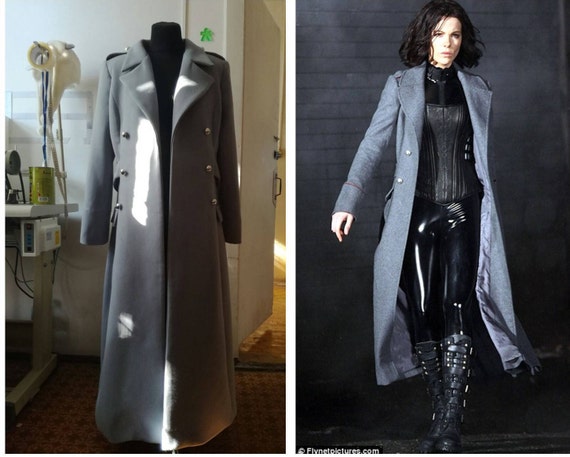 Selene Underworld 5 Blood Vampire Sexy Cosplay Costume Adult Handmade Cloak CUSTOM ORDER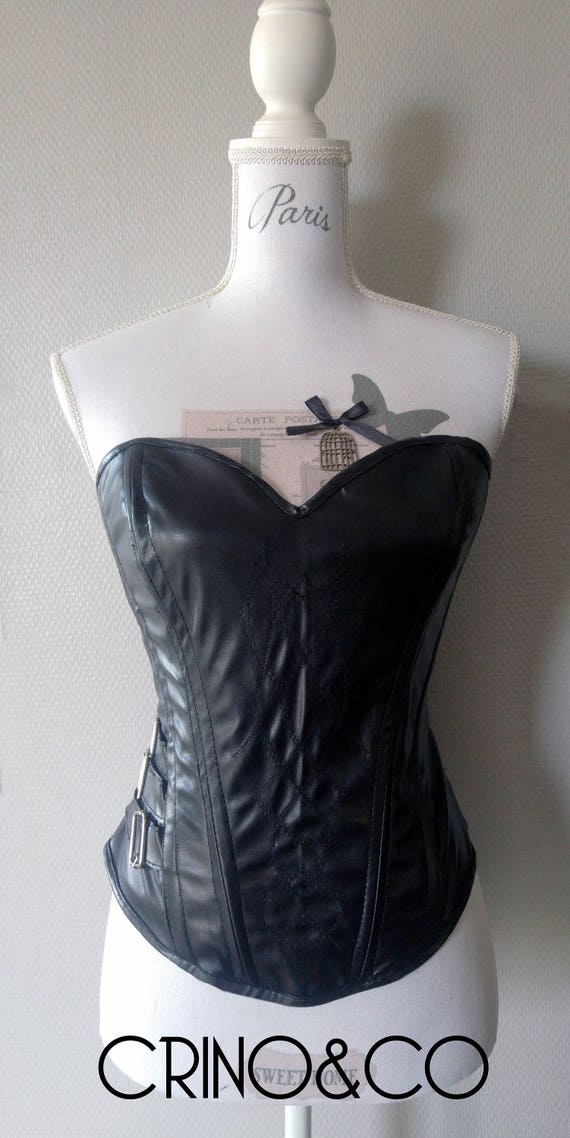 Underworld Corset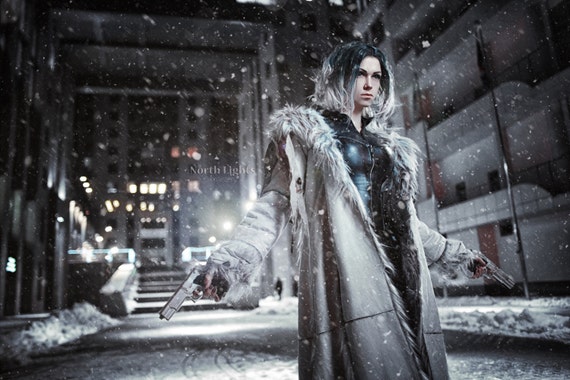 Selene Underworld 5 Blood Wars Cosplay movie vampire Costume Coat Full set

Catsuit/Bodysuit Selene Underworld Costumes For Women
Leg Avenue 3PC. Captivating Crime Fighter, quilted catsuit, utility belt, mask
We start off the sexy Selene Underworld costumes for women with a black bodysuit or catsuit. It doesn't need to be fancy or have anything special on it, because you're going to add her corset over the front anyway.
Choose a plain, simple, black bodysuit without any extra doo-dads on it. Check out the posters of Kate Beckinsale in her Selene costume from the Underworld movies that I have on this page (they're also for sale). Notice her bodysuit is closed part way up to her neck.
The length and cut of the bottom won't matter much except for your own comfort. Selene wore heavy calf high boots, so your pant legs will be tucked into boots.
Here are some examples from Amazon. If you check them out, you'll see that they're available in various sizes.
Coquette Women's Darque Wet Look Catsuit

Black Metallic Wet Look Full Bodysuit Costume-Reg and Plus Size

Gothic Black Wet Look Metallic Bodysuit Superhero Costume-Reg and Plus Size

Roma Costume Women's 2 Piece Alluring Assassin

Rubie's Women's Captain America: Civil War Black Widow Costume, As Shown

Leg Avenue Women's 3 Piece Cougar Catsuit Costume

Need some inspiration for your Kate Beckinsale aka Selene costume from the Underworld movies? Check out this poster I found on Amazon. First of all, it's a really good poster, but I digress.
The poster gives a clear shot of Selene's corset that she wears over that sleek black catsuit. It also shows some of the detailing on the leather duster, too. You can't really see her arm guards though, and you can't see her boots. For the boots, I have a video clip below that might prove helpful and I found some boots that might work well for you.
Twenty-three Underworld: Awakening Movie Classic Poster Silk Wall Home Decorative Painting -Kate Beckinsale-canvas poster 24X36Inch

Corsets For The Selene Underworld Costumes For Women
The first corset we have here is an actual replica of the one Selene wore in the movies as you can see in the two posters above. Below that one are some alternatives I found for you. Nearly all of them are available in a good range of sizes, with excellent price points.
Ya-cos Halloween Underworld 4:Awakening Selene Corset Cosplay Costume

Women's Gothic Punk Satin Boned Zipper Overbust Corset Top with Buckles

Steampunk Punk Rock Faux Leather Buckle-up Corset Bustier Basque Top

Charmian Women's Steampunk Spiral Steel Boned Vintage Retro Corset Tops Bustier

Vacodo Women's PU Leather Halter Shoulder Straps Underbust Corset Top

Women's Steampunk Gothic Brocade Spiral Steel Boned Corset with Buckles

Women's Spiral Steel Boned Goth Retro Overbust Steampunk Bustier Corset

Boots For Selene Underworld Costumes For Women
Selene wears some ultra tough looking boots with her bodysuit and these were the two closest pair that I found to look like hers. One of the best scenes in the movies is when she jumps down from great heights and lands on one foot and seemingly on one knee, then stands straight up. You see her floating down and then get a quick shot of her boots when she lands. She looked awesome!
Demonia By Pleaser Women's Boot

Pleaser Women's Electra-2042 Boot

Pleaser Women's Gothika- Boot

Ellie Shoes Women's Easy Combat Boot

Underworld Selene Costume Accessories
Have to have those cool accessories like Selene has!  I couldn't quite figure out how Selene has her gun holsters attached, but I found some nice ones for you to check out.  I believe these attach around the leg.  We found a training gun if you want to put something in the holsters, and of course ~ arm guards similar to the ones Selene is wearing in the poster at the top of the page.  Check them out – let me know how I did!
UTG Elite Tactical Right Handed Leg Holster

UTG Elite Tactical Leg Holster (Left Handed)

BladesUSA Rubber Training Gun

Syktkmx Faux Leather Gauntlet Wristband Bracer Arm Armor Cuff Buckled Punk Gothic Medieval Costume Vambrace

Black Leather Dusters – Selene Underworld Costumes For Women
And the cherry on top to make this fabulous costume complete is the long black coat that Selene wears. I don't know about you, but I like the Trinity street fighter coat the best of the three I found. What do you think?
Matrix Trinity Street Fighter Adult Costume

Charades Women's Cypher Enigma Coat

Matrix Reloaded Trinity Costume

Women's Black Leather Look Duster

Selene Underworld Costumes For Women On eBay
Found some more great bargains on Selene Underworld costumes for sale on eBay. This costume should prove to be a blast to wear to any costume party or cosplay event, don't you think?
WP eBay Product Feeds
by
Winwar Media
(Visited 24,531 times, 1 visits today)