This post contains affiliate links, which means I will make a commission at no extra cost to you should you click through and make a purchase.
Welcome to our Halloween Haunted House Ideas! We have some ghoulish Halloween decorating ideas for a super fun Halloween.
Every year as the leaves start to turn colors and fall, a brisk, cool wind starts to blow and something happens in every neighborhood in America.
Here and there, normal everyday houses turn into scary haunted frights at night ~ Halloween Haunted Houses!
I know you've seen it. That mild mannered neighbor you thought you knew, suddenly transforms his house into the best Halloween Haunted House you have never seen.
Well you can do that too! That is what we're here to help you with. You'll find some spooky Halloween Haunted House Ideas here for your information and pleasure.
Keep checking back for updates at Halloween Haunted House Ideas.
Swinging Decrepit Doll Animate

Swinging Skeletal Boy

Ye Olde Halloween Haunted House Ideas
Remember those great neighborhood families that would go all out to create a haunted house for Halloween trick or treaters? We squealed with delight every time something scary popped out at us.
There was a wonderful house just like that where I grew up in Laredo, Texas. The family had one child and he was a teenager in high school back then. Every year we could count on being scared out of our wits on that creepy walk from their front fence gate to their front door.
Their house was fully decked out with spider webs and skeletons and lots of other cool stuff. The boy would hide behind one of their flower bushes or their giant Pampas grass bush in the front yard. As we came in the gate, he'd run out and scare us right out of our shoes.
You can create treasured memories like that with your kids and the neighborhood kids, too. Talk about creating fun memories! Don't forget the camera!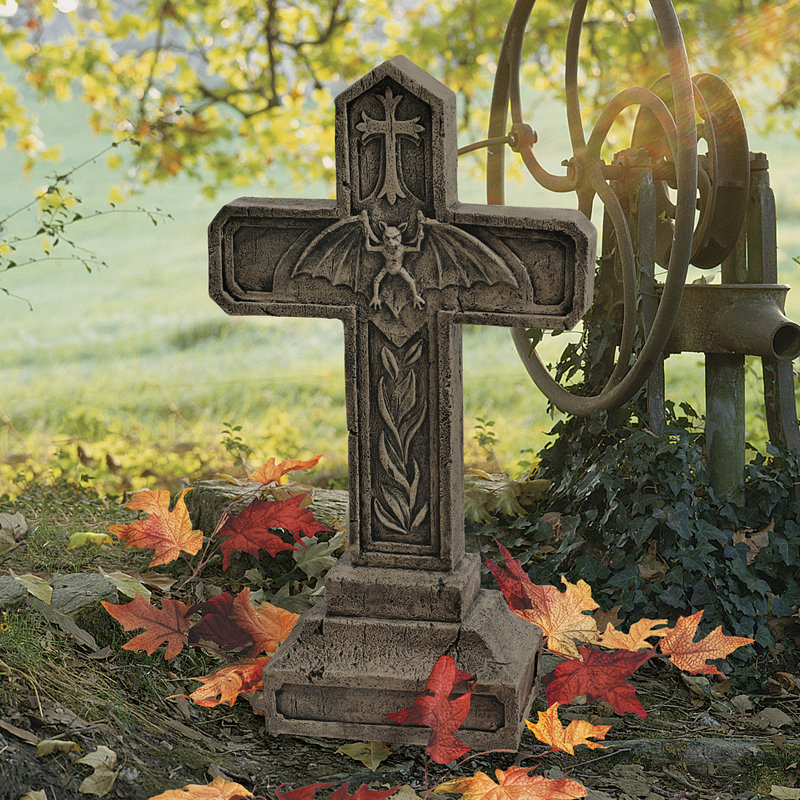 Balkan Vampire Blood Cross Statue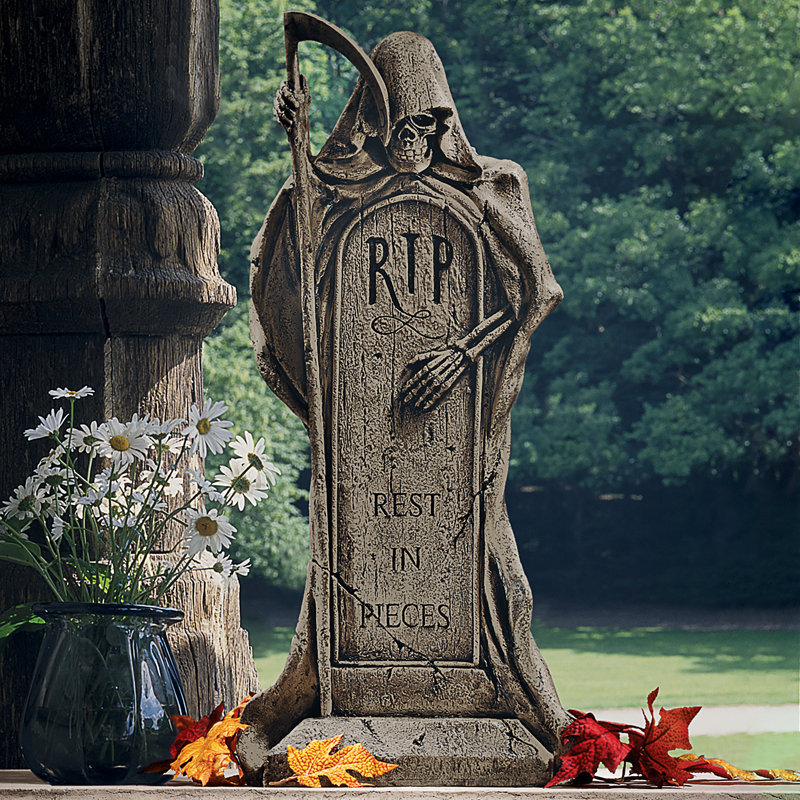 Grim Reaper Tombstone Statue

How Do We Create The Best Halloween Haunted Houses?
You might want to start shopping around early for some great deals on some Halloween haunted house props. The props you want are the ones that will turn your manicured front yard into part of a spooky haunted house. That will keep the trick or treaters squealing with horror…oh I mean, delight!
So, let's start from the outside and work our way in. These are some ideas for scary Halloween haunted house props for the lawn.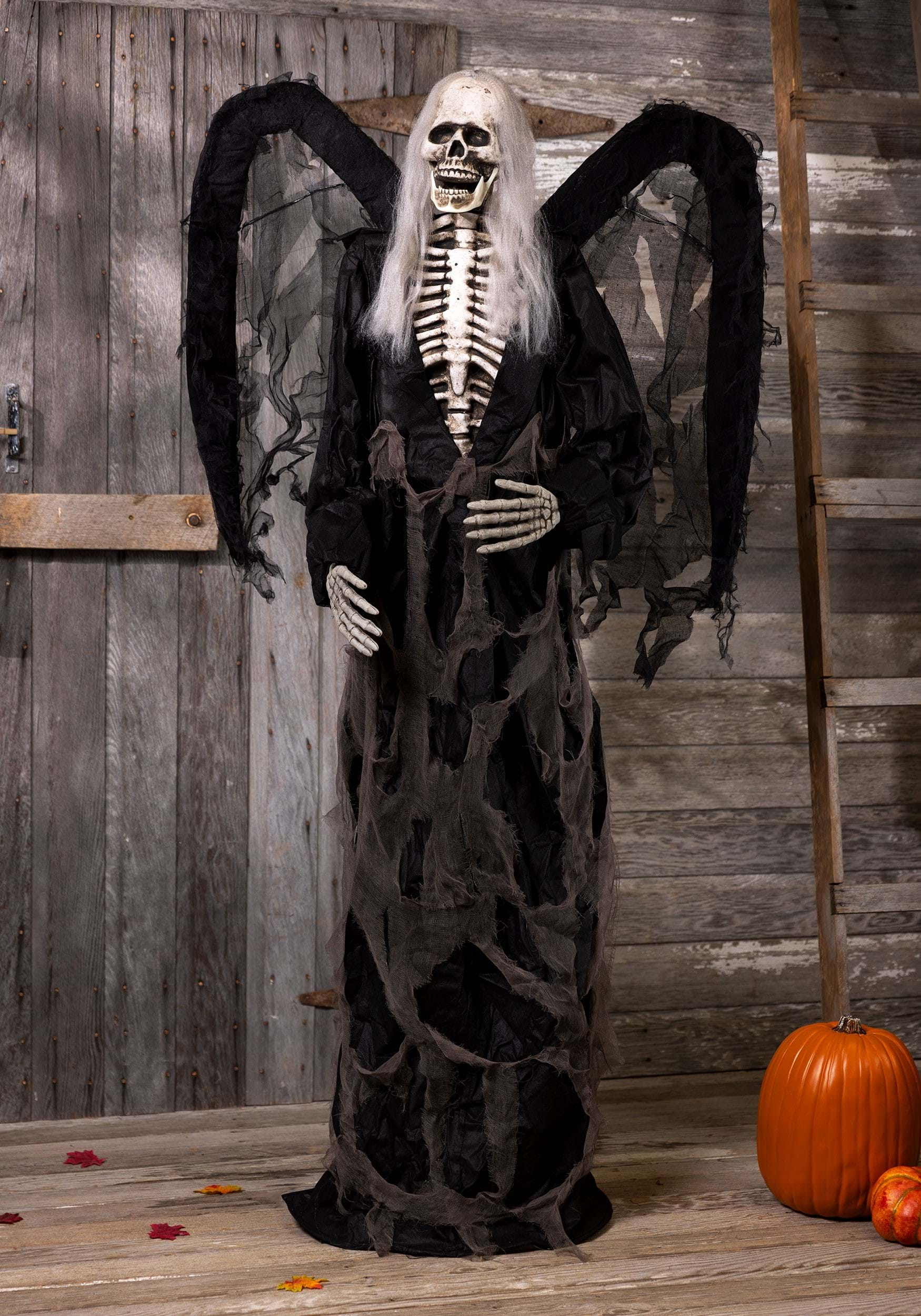 72 inch Black Winged Gruesome Greeter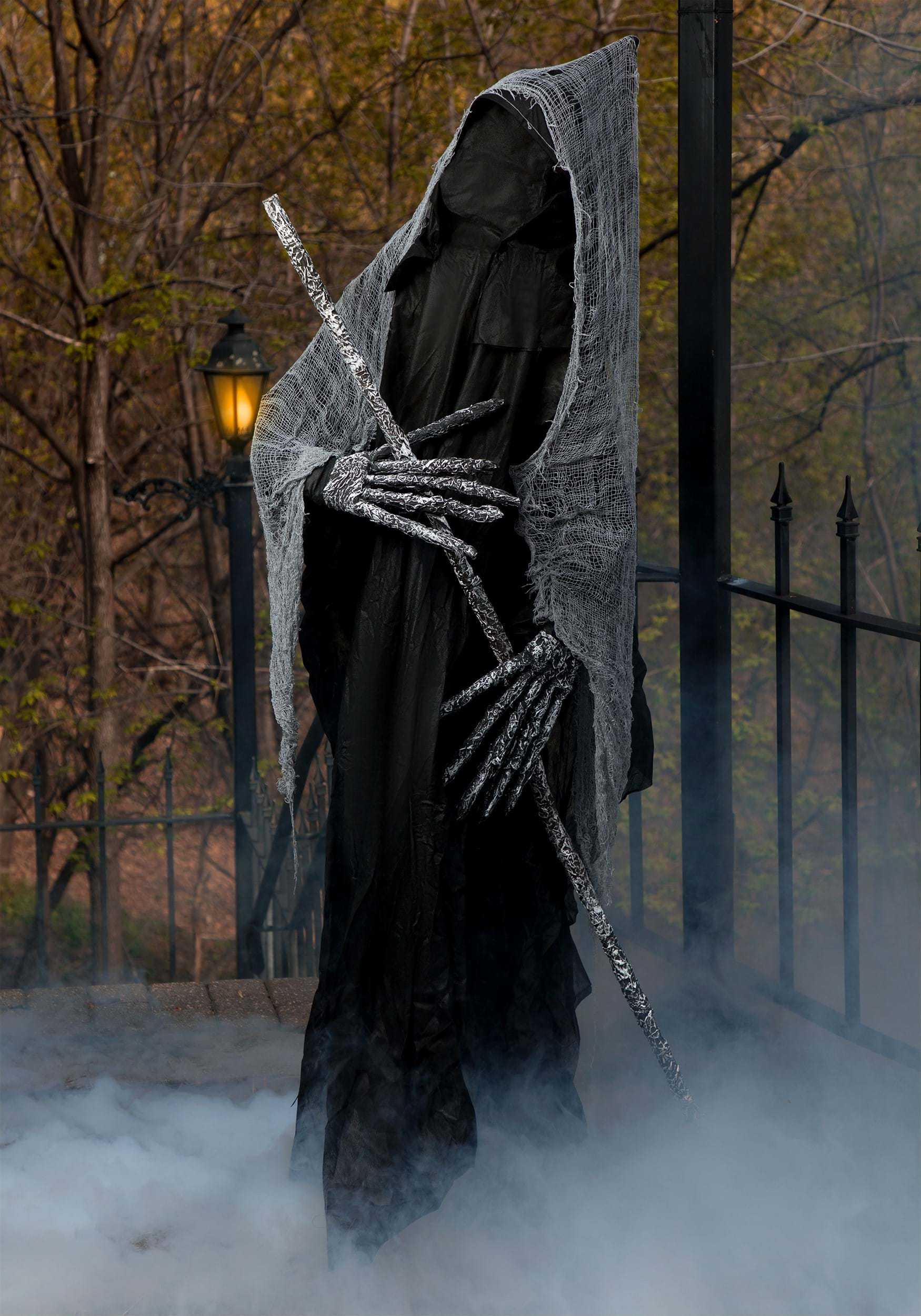 6Ft Reaper with Staff Prop

You get the idea. These ground breakers are perfect Halloween haunted house ideas to create the foundation of your Halloween haunted house.
If you can, set some soft lights behind or around them to add to the creepy atmosphere. Yikes! Use the lighting to create shadows, but keep the lights as low as is safely possible. Don't light their way too brightly!
Freaky Frightening Props For Halloween Haunted Houses
Outdoor 70″ Hanging Corpse Prop
Halloween Spider Web Decorations
5.2ft Animated Haunted House Prop
31″ Festival Prop Groundbreaker Zombie
Tips To Make Your Halloween Haunted House Creepy
Your Halloween haunted house will thrill your visitors if you can set the right feeling through and through. Nothing disappoints me more than a haunted house that has tons of special effects just thrown together – especially strobe lights and loud screams. Duh!
Use the lighting to make your Halloween haunted house creepier. Try setting the lights low to the ground or hang them high to stretch those shadows. Use color to add to that scary ambiance ~ soft yellows or greens and maybe some black lights.
The sound effects should give you goose bumps of fear! Dogs snarling and growling as background sounds (hell hounds!). Whispers and soft laughter in other areas, maybe even soft crying. Watch the volume. Too loud and they'll just be irritating. You want the sound just low enough to give your visitors goose bumps.
Keep the props simple and related to a theme. Don't just throw in everything and the kitchen sink. Think of a local ghost story or a regionally famous haunting to reenact. Or set up your favorite scary movie ~ the Exorcist movies STILL scare me out of my wits!
Elsewhere on this page I've included links and videos for more terrifying tips for your Halloween haunted house. Have fun with yours!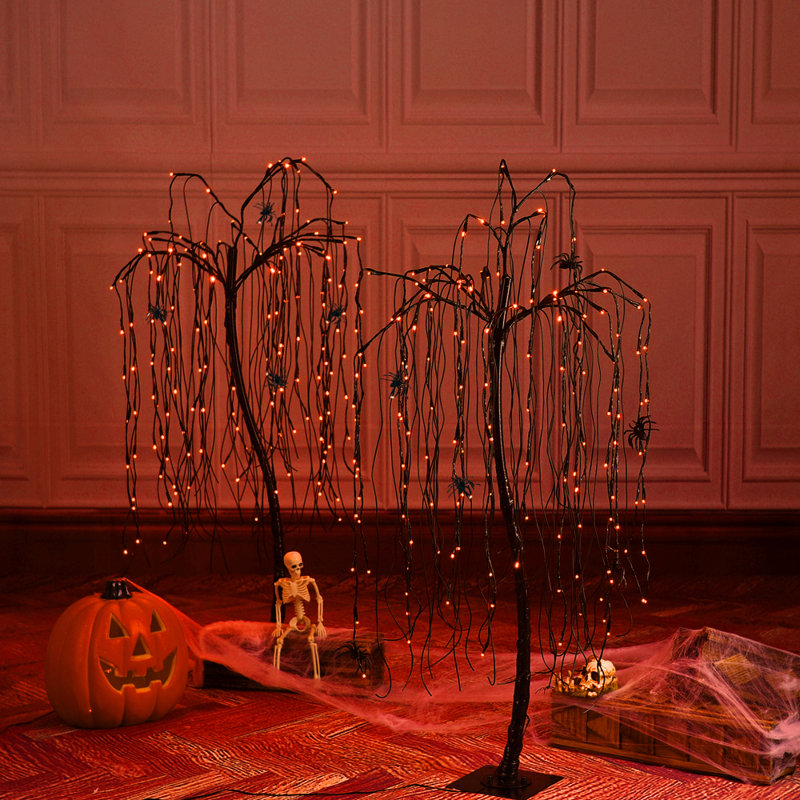 Halloween Tree 160 Light Lighted Trees

Halloween Skeleton Skull String Lights
Yellow Flickering Flame Effect Light Bulbs
100 Feet 300 Orange LED String Lights
Solar Fairy Jar Lights
How To Create A Spooky Halloween Graveyard
A display like this would make a great 'entrance' to your haunted house.
Morris Perfect Storm Box Lightning And Thunder Effects Machine
nfrared Motion Sensor Activated Sound Player, Audio Download
Halloween Haunted House Links For More Tips & Ideas
HauntedHouse.com
Directory of Haunted Houses throughout the United States.
How to Make a Haunted House
Find out how you can make your own haunted house for Halloween. Find free directions for easy props and haunting tricks the whole family can help with!
Haunted House Magazine
This is a magazine for professional owners & operators of Halloween attractions. Talk about finding some great ideas! Lots of articles – lots of fun!
TLC Cooking "How to Make a "Find Your Way Blind" Haunted House (With Food!)"
Do you know how to make a "find your way blind" haunted house? Learn how to make a "find your way blind" haunted house — with creepy food, to boot.
Halloween Haunted House Ideas Can Be Scary or funny
It all just depends on what you want to do. You may want to have a little somethin' somethin'to scare the kiddies as they go trick or treating,you may want to transform your whole house into one big scare or you may want to turn your front yard into a scary cemetery scene.
Whatever you decide a great place to get more Halloween haunted house ideas is a website called The Monster List of Halloween Projects. This website has a wide variety of ideas that might just inspire you. If you are even a little bit handy, you will probably be able to do most of the projects.
Morris Perfect Storm Box Lightning And Thunder Effects Machine
nfrared Motion Sensor Activated Sound Player, Audio Download
Animated Roaming Doll w/Poseable Arms, Light-Up Eyes, Sounds, Phrases, Activated by Motion, Sound, or Vibration
Animated Skeleton Halloween Decoration with Sound and Light for Indoors – Dog
Do You Like Creepy Halloween Haunted Houses?
Haunted House Decorations on eBay
(Visited 820 times, 1 visits today)