This post contains affiliate links, which means I will make a commission at no extra cost to you should you click through and make a purchase.
Be a cool biker dude or a hot biker chick this Halloween with these rocking biker Halloween costumes. Show 'em what you've got!
Your whole family can be your own little biker gang.  You'll love the biker Halloween costumes for kids and babies too.
Be the best and baddest biker at all the Halloween parties this year!
You can rumble in to the office party in a biker Halloween costume and watch the jaws drop.  Yeah, you rock.
So if you're looking for biker vests and other attire, tattoo sleeves and other accessories, we have what you need.
Be the hottest biker for Halloween or any other costume event.
By the way, there are some great biker costumes and accessories on our Ghost Rider page.  Be sure to check those out too.
Let's hit the road!
Born to Be Wild Baby Biker Costume
InCharacter Baby Born to be Wild Biker Costume
Who can resist this handsome lil biker dude? Is he not the most adorable baby biker! The costume is so detailed and realistic; the cuteness is set to overload!
This toddler biker costume includes the printed do-rag cap, jumpsuit with biker jacket print and attached mesh tattoo sleeves and snaps for easy diaper change. It's available in 4 sizes for tiny newborns and up to 24 months.
Not only is it adorable, but it's even machine washable! You can't beat that with a stick!
Now the entire family can dress as bikers this Halloween! But I bet I know who will steal the show at the Halloween party and be the center of attention – The Baby Biker Dude!
Biker Halloween Costumes For Kids
Hey are these the most darling bikers you've ever seen?  One of them even reminds me of Fonzie from Happy Days.  If your child is into motorcycles, they'll enjoy wearing these cool biker Halloween costumes for kids.
Biker Shirt Child

Lil Big Biker Toddler Costume

BOYS MINI BIKER COSTUME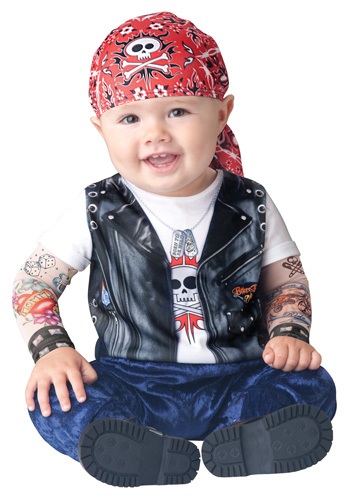 BABY BORN TO BE WILD BIKER COSTUME

Boy's Biker Halloween Costume
Baby Biker Halloween Costume
Child's Biker Costume
Boy's Lil Big Biker Toddler Child Halloween Costume
Mombebe Baby Boys' Punk Biker Costume Bodysuit With Hat
Rubies Costume Child's Little Biker Boy Costume, Medium, Multicolor
Toddler Biker Tattoo Costume Shirt
Harley Davidson Motorcycle Dress Up Kit
Faux leather Motorcycle Dress Casual Boys Joker Vest
Biker Halloween Costumes for Teens
Teens will also enjoy looking ever so cool in one of these biker Halloween costumes for teens.  These are fun to wear for school parties, carnivals and of course, trick or treating.
Teen Beach Lela Biker Costume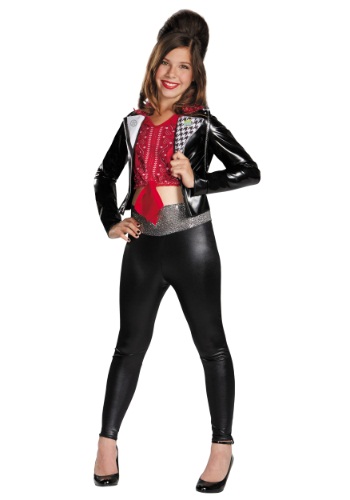 Teen Beach McKenzie Biker Deluxe Costume

Teen Beach Lela Biker Deluxe Costume

Biker Halloween Costumes For Men
I don't know about these two costumes. Something about them just look like…costumes. If you need a quick and easy costume for a party, these would be great.
Faux Real Men's Biker Tee with Tattoo Mesh Sleeves

Faux Real Men's Big-Tall Biker Tattoo T-Shirt With Mesh Long Sleeves

But if you want to really rock the biker look, why not assemble your own? A vest, some jeans, some boots and a t-shirt and you're well on your way to a biker Halloween costume. Add your preferred accessories from below and you've got it! The upside is that you can wear the clothes and boots again any time. Check it out:
Bruno Marc Men's Motorcycle Combat Boots

Classic Mens Motorcycle Biker Boots

Dingo Men's Chopper Harness Boot

Harley-Davidson Men's Boot

The Bikers Zone SOA Mens Leather Vest W/ Concealed Gun Pockets

Biker Access-Men's Updated SWAT Style Biker Vest

Diamond Plate Mens Plus Leather Embroidered Patches Vest

Levi's Men's 505 Regular Fit Jean

Wrangler Men's 5-Pocket Regular Fit Jean

Levi's Men's 511 Slim Fit Jean

Gildan Men's Assorted V-Neck T-Shirts 5 Pack

Next Level Apparel mens Premium Tank

Gildan Men's Ultra Cotton Adult T-Shirt, 2-Pack

Mens Leather Biker Jacket Vintage Distressed Genuine Leather Motorcycle Jacket

Hot Leathers Men's Vented Motorcycle Jacket

MILWAUKEE LEATHER Men's Classic Side Lace Police Style Motorcycle Jacket

Biker Chick Halloween Costumes
Women and girls will all enjoy dressing as a biker chick for Halloween. Strut your stuff in leather gear, and show off your "tattoos" for a fun time for all in these biker chick Halloween costumes. These are really cute aren't they?
Leg Avenue Women's Easy Rider

Faux Black Leather and Tattoos Contemporary Missy T-Shirt

Betty Boop Secret Wishes Biker Costume

Same goes for us, ladies. If you want just a quick and easy biker Halloween costume, those are great. But check these out too. These are so cool!
Women's Cotton-Blend Crew-Neck Staple Top with Long Sleeves

Women's V Neck Ruched Sleeveless Sexy Blouse Stretch Tank Tops

Women's Casual Short Sleeve Solid Criss Cross Front V-Neck T-Shirt

Women's Black Faux Suede Hole Tasseled Hem Collarless Waistcoat

Woman Within Women's Plus Size Stretch Denim Vest

Diamond Plate Womens Leather Motorcycle Vest

Lee Women's Classic Fit Monroe Straight-Leg Jean

Women's Butt Lift Super Comfy Stretch Denim Skinny Jeans

Signature by Levi Gold Label Shaping Pull-On Skinny Jean

Premier Standard Women's Buckle Strap Block Heel Ankle Booties

Women's Ankle Lace Up Combat Boots Mid Knee Credit Card Pocket

Women's Lace up Combat Boots Ankle High Quilted Credit Card Pocket

Ladies Leather Motorcycle Leather Jacket plain sides

Prim leather Women's Lambskin Leather Bomber Biker Jacket

SID Women's Lambskin Leather Biker Black Jacket

Biker Costume Accessories
Here are some more biker costume accessories that can be utilized by men and women for their biker Halloween costumes.
Rubie's Costume Studded Gloves

Women Studded Biker Gloves

Forum Novelties Studded Wristband

Single Stud Wristband

California Costumes Biker Beard And Moustache Costume Accessory

Dreads Bandana Dreadlock Costume Braids

Moisture-Wicking Dew Rag, Flames

Black Vinyl Biker Hat

Biker Tattoos – Kit #1 Accessory by Forum Novelties

Tattoo Sleeve (Dragon of Fire) ~ Party & Halloween Accessory

Biker Halloween Costumes For Sale On eBay
(Visited 3,992 times, 1 visits today)