This post contains affiliate links, which means I will make a commission at no extra cost to you should you click through and make a purchase.
Ballet Folklorico Dresses
Happy Dies y Seis de Septembre! Happy Mexican Independence Day! This is the date Mexico celebrates as it's Independence Day. And much like our own American Independence Day, there are thousands of celebrations, parties and festivals to enjoy.
Ballet Folklorico dresses are beautiful, colorful and lots of fun to wear to anything from a costume party to a dance festival. Having a parade? Dress up in one of these gorgeous costumes and join in the fun.
Actually, Ballet Folklorico is the name of a dance group in Mexico started in the 1950's. The group presented beautiful traditional dances representing different regions of Mexico. There's history, romance, rich color, tradition and remembrance all wrapped into the dance groups that evolved to the folk dances now recognized worldwide.
Enjoy celebrating el Dies y Seis (the 16th) by wearing a colorful ballet folklorico costume. Or have a Mexican Independence Day party and have everyone wear costumes. OR, enjoy these ballet folklorico dresses for Halloween or dia de los muertos.
Image: Ballet Folklorico Imagenes Mexicanos by Benny Mazur on Flickr, Commons 2.0
Mexican Folk Dance Dresses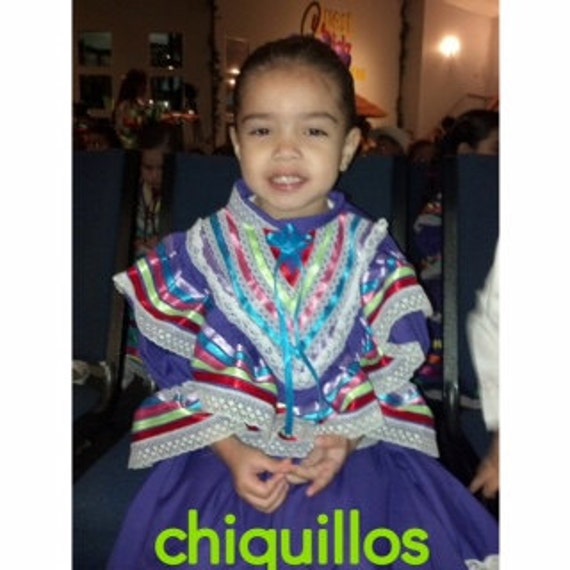 You've seen those stunning Mexican folk dance dresses with the super wide skirts and bright colors? If you haven't, you're missing a real treat.
The most famous of these dance dresses are the Jalisco (a state in Mexico) folklorico dress. There are dance costumes representing different regions in Mexico, not to mention different peoples.
I think the reason they are so recognizable is because they're so full of color. The gloriously wide skirt helps too.
The folklorico dance dresses are usually a blouse top and the skirt bottom. You can add ruffly underskirts and/or bloomers for extra effect.
The beauty is in the embroidery and satin ribbons that decorate the dresses.
&
&
Baby Girls Mexican Jalisco Dress (Blouse and Skirt)
Girls Mexican Jalisco Dress (Blouse and Skirt)
&
El Jarabe Tapatio (Jalisco)
Sampling of a traditional folk dance from the Mexican state of Jalisco. Don't you love those gorgeous skirts?
El Jarabe, or The Mexican Hat Dance, is the national dance of Mexico. It's known worldwide for it's story and costumes. The story is a romance; a man courts a woman. She rejects him. He tries again & she accepts him. Sweet, right?
Girls Mexican Dress 3 Ribbons White
Mexican Mariachi Kids Costume
Boys Mexican Charro Costume
Toddlers Tri-color Folklorico Dresses
&
How About A Handmade Ballet Folklorico Costume
If you're wanting an authentic look rather than a costume look, take a look at these gorgeous handmade folklorico dance dresses from Etsy.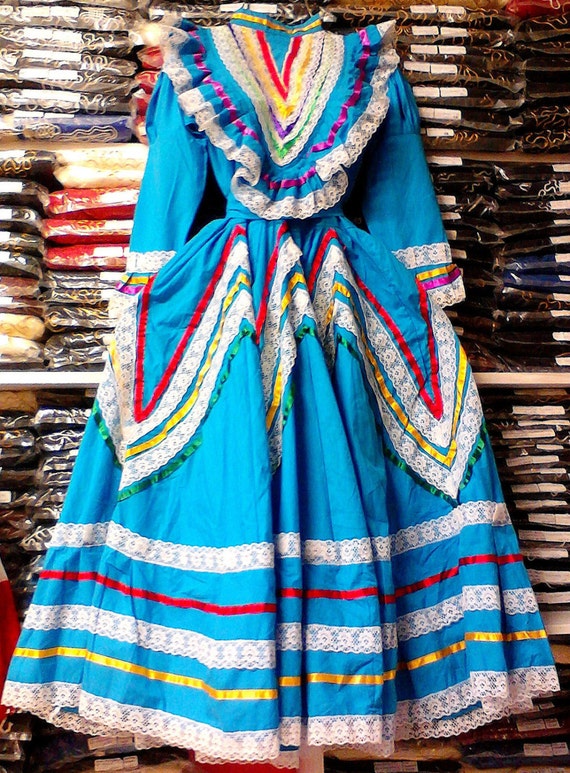 Womens Jalisco Dress With Super Wide Skirt Flow Folklorico Dance Handmade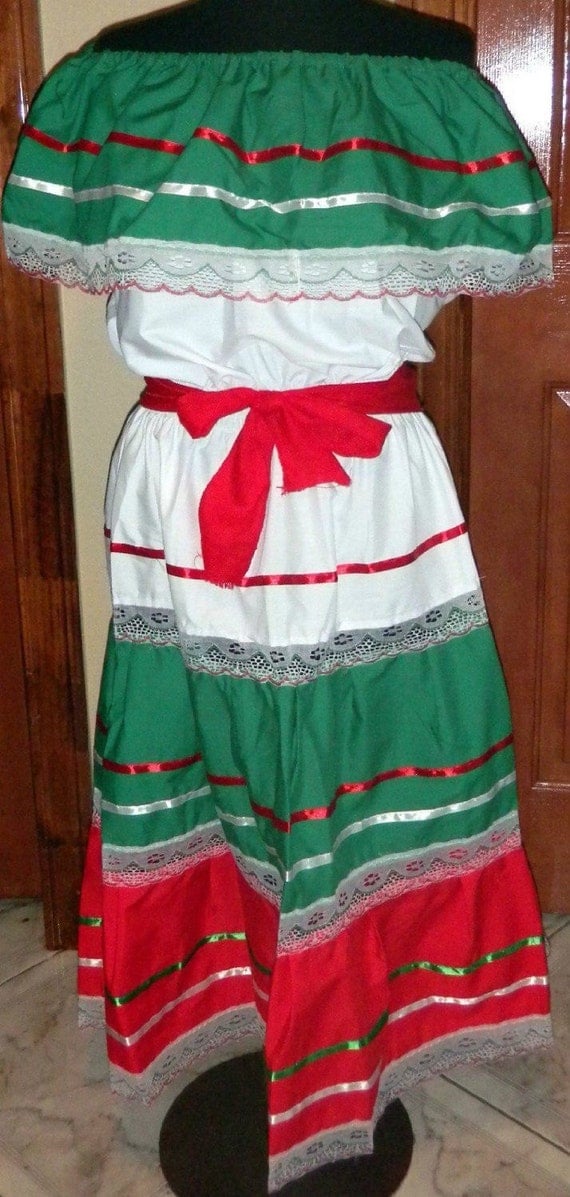 Womens One Size Fits Most Dress Mexican Folklorico Fiesta Dance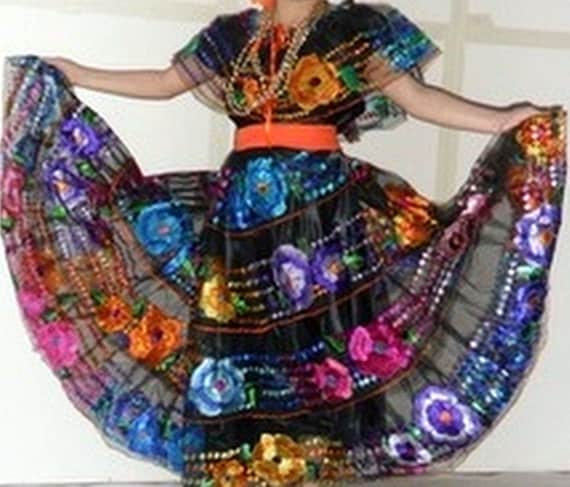 Chiapas Womens Folklorico Traditional Dance Fiesta Suit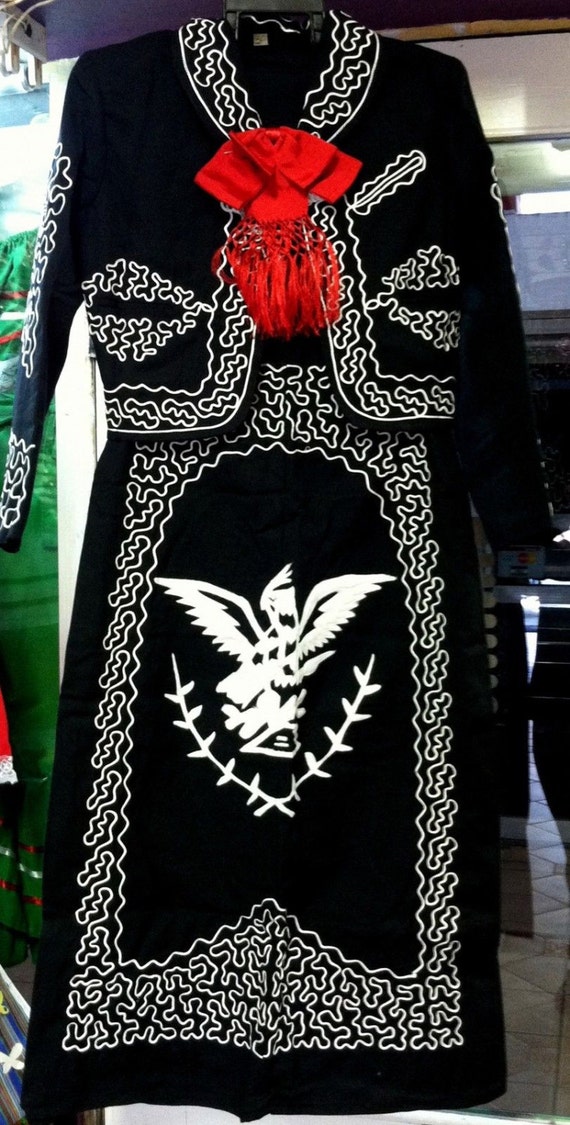 Women's Mariachi Charro Dress Outfit Mexico Folklorico

Have a beautiful Mexican Independence Day! Check back soon, I love to keep adding to my costume collections. Cheers!
(Visited 3,417 times, 1 visits today)